I'm drinking some Whiskey as I write – the good stuff; Seagram's 7 Crown. It's a celebratory glass – a mid-morning toast to some very Groovy news on the War, Semen & Grooviness front. I was just informed by my old-flame, Rosemary Tran, that she had seen The Brian Jonestown Massacre at Neumo's of Seattle on Saturday, March 21, 2009, and that the BJM's notorious lead singer, Anton Newcombe, was wearing a Groovy Cum Bomb patch throughout the entire show!
For those of you new to both WSG and the BJM – the Groovy Cum Bomb is the official seal of War, Semen & Grooviness. It is an archetypal and unified emblem representing the Three Gods that all members of the illustrious Fab Reich worship and praise. The Brian Jonestown Massacre is a 20+ year musical act led by melodic and conceptual genius, Anton Newcombe. If you know nothing of them, check out the movie 'Dig!' – which chronicles the lovely and torrid relationship between the BJM and the far less groovy band, The Dandy Warhols. Anton is a notorious figure – despised and revered with equal intensity by musicians, band-mates and fans alike. Newcombe is a dark iconoclast – imagine Brian Jones, John Lennon and Charles Manson all masturbating into a guitar – and the guitar then bearing an embryo with the promise to save Rock n' Roll forever! The Brian Jonestown Massacre is the one of the more respected musical acts to wave the progressive banner of 1960's rock experimentalism. But these aren't just nostalgic jokers. The songs do not regurgitate hippie idealism or the Woodstock Nation in the least – this is the 60's of dark California, Sharon Tate laying bloody and bruised on her living room floor, Altamont and all the rest; a true cocktail of War, Semen & Grooviness.
I had the privilege of meeting Anton Newcombe during my brief residence in New York City last year. We both frequented a bar in the East Village called 'The Library' and he approached me one evening, expressing his fascination over the Groovy Cum Bomb patch that I was wearing. I had seen 'Dig!' and owned one of his records but did not recognize him at all at the time and just assumed that he was some middle-aged schizophrenic. It wasn't until a few weeks later, upon seeing him over and over again, that I realized who I was getting to know. Before I headed back to WA, Anton bought me a drink and asked me for a patch. I obliged and thus consecrated a new Union of Grooviness! WSG offers it's warmest Thank You's to Anton Newcombe for continuing to spread the message of War, Semen and Grooviness!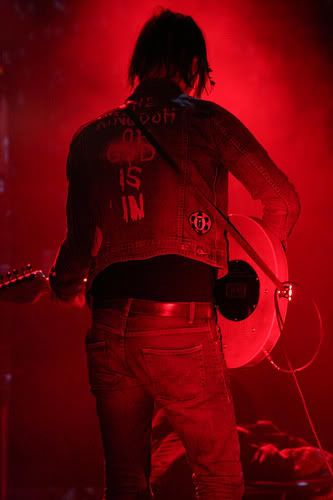 www.warsemenandgrooviness.com